The SDR Chronicles #100 – On Brand, Accountability, and Thinking Long-Term
Notes from Episode 100 of "The SDR Chronicles". Ralph Barsi and Morgan J. Ingram talk branding, creating systems, and thinking long-term.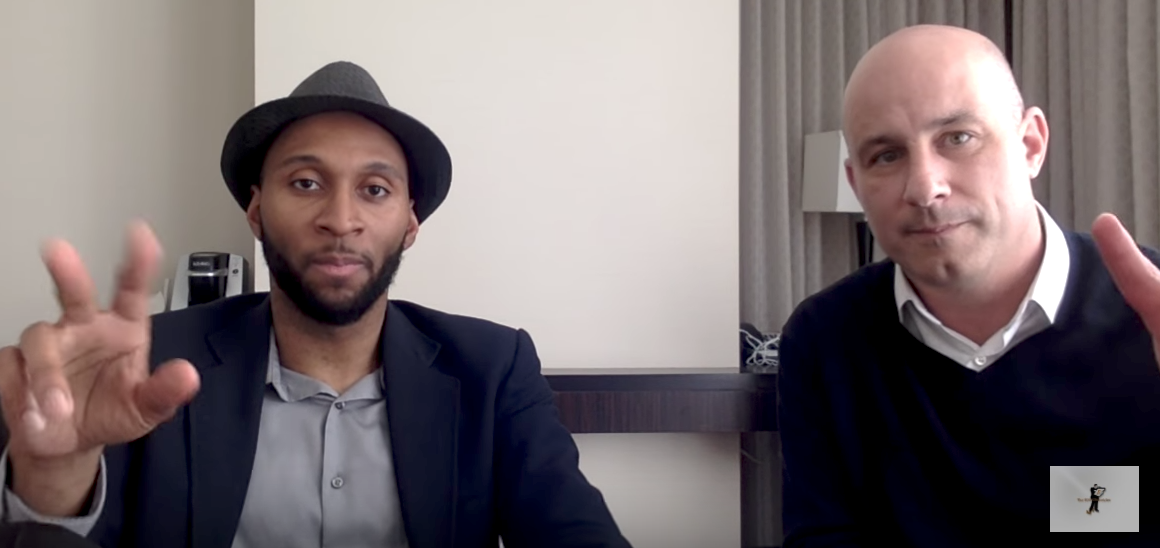 Filmed on Thursday, March 2, 2017 in Atlanta, GA. That day, Morgan and I both attended SalesLoft's Rainmaker Conference at the Loews Atlanta Hotel.
At the time, Morgan had already released 53 episodes of The SDR Chronicles. We both knew he was aiming to publish at least 100 episodes, so acted as if he had already done it. This was key. It held Morgan accountable and drove him to "see it" through.
---
HOW TO BUILD A BRAND, STAY ACCOUNTABLE, AND THINK LONG-TERM
01:00 Ralph Barsi introduces himself and tells the story of how Morgan created The SDR Chronicles.
It was inspired by Ralph's Sales Hacker article from September 2015, titled How the Best SDRs Overcome Obscurity.
One of the biggest barriers SDRs face is no one knows them. Often, their emails and calls get no response. That's why SDRs must focus on building their brand. The more value they add to the marketplace, the more valuable they will become (from Jim Rohn).
01:32 The article challenged SDRs…
I've searched and searched, and I've not yet found a YouTube channel hosted by an SDR, for SDRs. Is it you? Are you the one that will lead the pack? If so, your sales development kin will eat it up.
Here are ideas for your first few episodes:

– Why you want to start a career in sales development
– How to get quickly acquainted with using Salesforce
– What your initial emails to prospects must say and include
– How to address salary increase with your boss
– How to handle getting people's voicemail greeting all day long
– Efficient ways to sort through lots of inbound leads
– The best sales development tools to use this year
You can share "stories from the bullpen," and feature sales development reps from everywhere. Once in a while, sales development leaders or senior sales leaders are featured, to discuss career path progression, best practices, and "things you should be doing now to lock down a successful sales career."
01:58 Here's the tweet Morgan sent Ralph, saying he'd rise to the occasion.
03:09 How do you build your brand?
One way to do it is through video.
Find out where your audience is and who they are and go there.
If you're a great writer, then write; if you're a great speaker, get on stage and speak.
Triple-down on your strengths. Go from A to B, not A to Z. Produce one episode or one post or one article. Over time, you'll create a mountain of value.
04:29 What if you don't have time to create content?
Having no time is just not an excuse. You're given the same amount of time as us.
Tell us what's not working for you. People love stories about resilience, about others picking themselves up, dusting themselves off, and carrying on after failing.
05:41 How do you create more time?
Download Brendon Burchard's 1-Page Productivity Planner here.
Craft your days around three P's: People, Projects, and Priorities
Identify 3 projects and the 5 things required to move the projects forward.
Who are the people you must reach out to and the people you must hear from?
What are the main priorities you must complete, no matter what?
Be yourself. If you despise writing, like Morgan, but love making videos, have your videos transcribed, so your audience can read your content if they wish.
07:02 How's life for Morgan since creating the first episode of The SDR Chronicles?
"Everything has changed."
The respect level is different. Morgan now has friends and mentors he would not have had if he hadn't created the show. This is a perfect example of adding value and becoming valuable in the process.
You must shine. Do this by showing up and doing the work.
Many people now consider Morgan as "the Voice of SDRs," a thought leader and expert.
08:28 A-Players, B-Players, and C-Players – which one are you?
A-Players carry Moleskine journals and write down what they see and hear. B-Players will take their journals into a meeting, take great notes, but then do nothing with what they've learned. C-Players show up empty-handed.
09:49 How do you stay accountable?
Grant Cardone says success is your duty, obligation, and responsibility.
Share your unique strengths and gifts with others.
Each of us needs all of us and all of us need each of us (also from Jim Rohn).
10:59 Where can you find that accountability?
Find a mentor (someone in a higher role than you) and a buddy (someone in the same role as you).
Mentors can hold you accountable to do what you say you'll do.
Morgan holds himself accountable by publicly posting content. That way, his audience will expect him to produce.
12:15 What happens when you don't want to be held accountable and would rather do your own thing?
This depends on who you're trying to serve. For example, if you're a parent and/or a spouse and you decide not to be held accountable, you cause systemic, negative impact.
Face outward. Start considering those influenced by or dependent on you.
13:12 What can you do to hold yourself accountable?
What is your purpose? Why are you in the role? Why are you waking up every day and showing up at this particular place?
Do you have a trigger? If so, what (or who or where) is it?
14:32 How to think long-term
Engineer where you want to be and by when. Make it specific. Go from x to y in 7 months, for example (taken from The 4 Disciplines of Execution).
Life is not short, life is long (Chris Rock). There's plenty of time to crush it, as long as you put in the work every day. Exercise daily discipline, lay brick by brick, go from A to B. Success is sequential.
15:30 Considering the benefits of taking a long-term approach, why are people thinking short-term?
We live in a rushed world. We face a deluge of information each minute, which develops a temporary-fast-quick-let's go mindset.
There's value in surrounding yourself with people who are in it for the long haul. Morgan likens it to the Law of Association, which talks about contiguity – the sequential occurrence of stimulus and response, causing their association in the mind. "Show me your friends and I'll show you your future."
Keep in mind that if you concentrate on being a really good SDR, you'll eventually be a really good salesperson.
17:16 The SDR to AE path. Many SDRs say, "I want to be an AE right now."
Before earning the role of Account Executive (AE), you must master the craft of sales development. Otherwise, you will skip learning critical sales skills like prospecting or diligently following-up on an inbound lead (which costs money to marketing/demand generation teams), or educating yourself on the audience of prospects you're calling.
Ignore these fundamental skills and steps and you'll face an uphill climb when you become an AE.
AE's are busy trying to close deals. It's imperative AE's know how to handle deal mechanics (moving your deals through the funnel). Fail to do this well and you'll find yourself on a performance improvement plan.
Many deals are lost because of basic steps missed early in the process. It's better to lose in the first round than the fifteenth.
19:36 Master the fundamentals as an SDR.
Practice the "chest pass" and the "bounce pass" of sales development.
A lot of salespeople get caught up in the closing process, banging the gong when a deal is won, and the celebrations that follow. All of that is cool, but none of that happens unless sales fundamentals are used.
Speaking of basketball, watch 2-time NBA MVP Stephen Curry's pre-game warmup routine – it illustrates the basics in dribbling and shooting.
Make every phone call and email better than your last one. Get really good at writing and learn from books like Writing That Works.
21:52 How do you set up long-term goals?
Create systems. Losers have goals and winners have systems (Scott Adams).
---
Morgan's added tremendous value to our profession and has become more valuable in the process. Thanks for stepping up, Morgan. It was an honor to join you for #100!